Utile led a team of architects, planners, landscape architects, engineers, and regulatory experts that was tasked with proposing "realistic greening options that could be implemented in the near-term" for Boston's City Hall Plaza. The consultant team, which consisted of Utile, Reed Hilderbrand, Durand & Anastas Environmental Strategies, and Nitsch Engineering, was awarded one of five projects under the Greening America's Capitals initiative, a new program of the EPA-HUD-DOT Partnership for Sustainable Communities. The study prioritizes a full range of strategies that can improve the open space, including a much-improved stormwater runoff solution, landscape strategies that increase summer shade and reduce the heat island effect, new urban connections that improve bicycle and pedestrian access, and other physical adjustments that will result in a thoughtfully transformed civic space.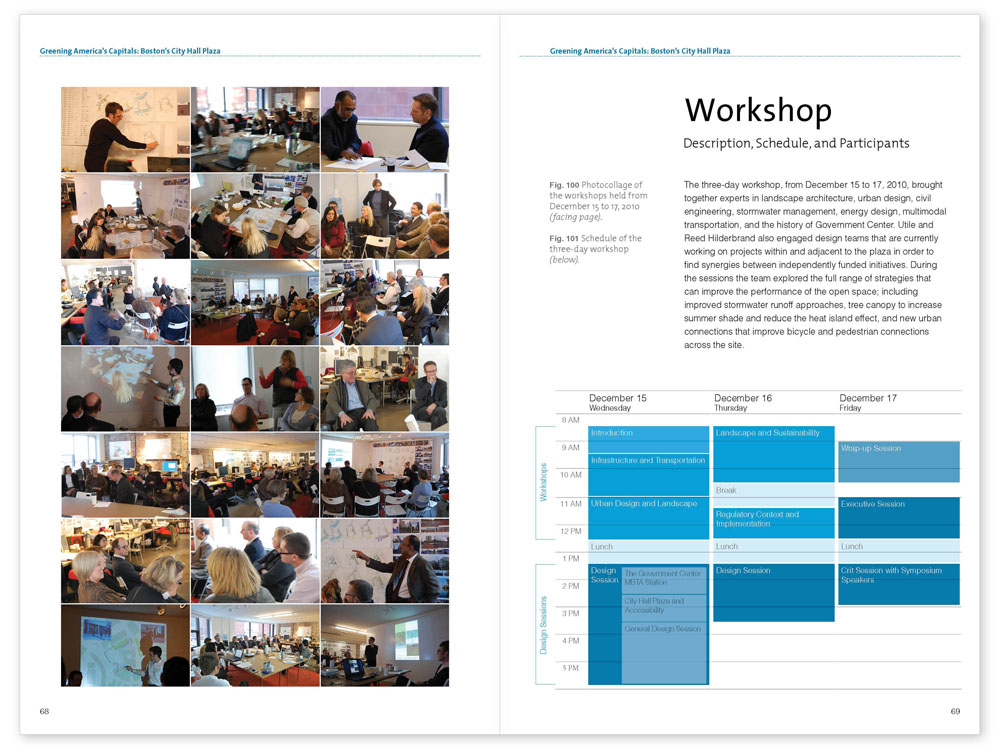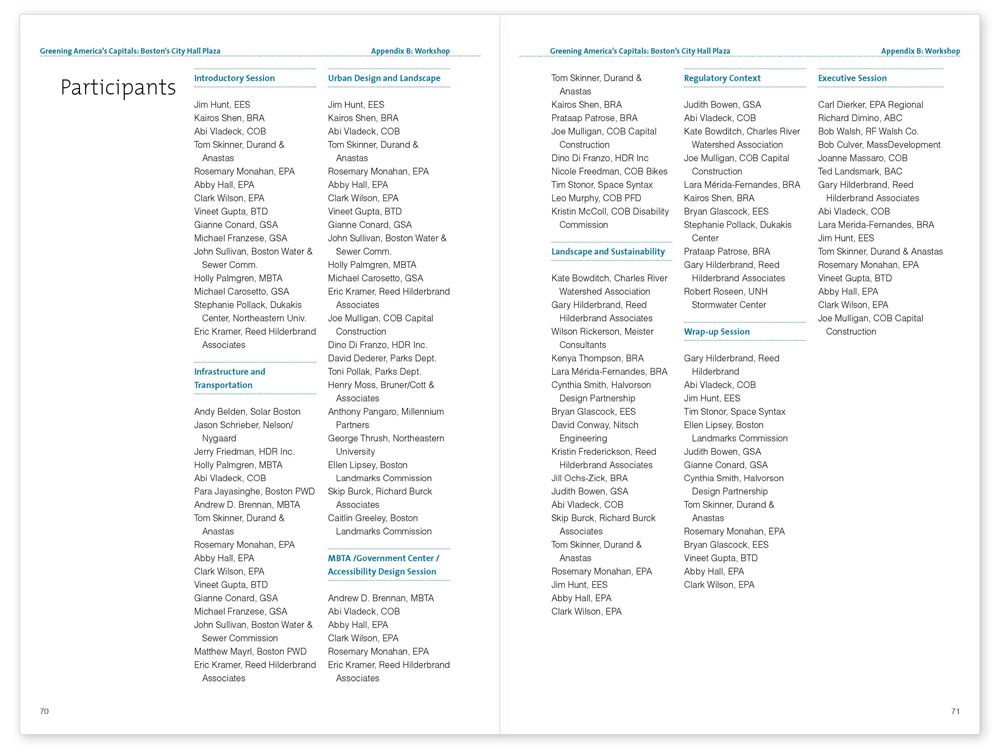 Through a three-day workshop in December 2010—which brought together experts in landscape architecture, civil engineering, stormwater management, energy design, transportation, and government officials—the team presented a thorough analysis of the existing conditions and a menu of opportunities for improving the performance of the open space.
Two framework plans were generated that could serve as a template for future phased design contracts. Both schemes leveraged existing on-going projects, including the new MBTA station and the realignment of Cambridge Street, and sought to clarify the grading in the immediate proximity of City Hall and the redesigned MBTA subway headhouse. Both scenarios also proposed a much more robust tree planting concept along the narrowed and realigned Cambridge Street edge: three staggered rows of trees between the curb and the existing free-standing colonnade.
The first scenario presupposed that the large plinth just south of the low wing of the JFK complex would stay in place for the foreseeable future.The grove of trees on the extended plinth is rehabilitated and extended to the west to create a more robust spatial boundary on the north side of the plaza and a better scaled and proportioned plaza space. This space was sized to be roughly the dimensions of the lawn that faces the Hatch Shell on Boston's Esplanade.
The second scenario imagined that the plinth along the south edge of the JFK complex could be removed and replaced by a smooth and continuous slope between Congress and Cambridge streets. This approach—recreating the approximate alignment and grade of the once continuous Hanover Street—was central to the 1998 Trust for City Hall Plaza design proposal.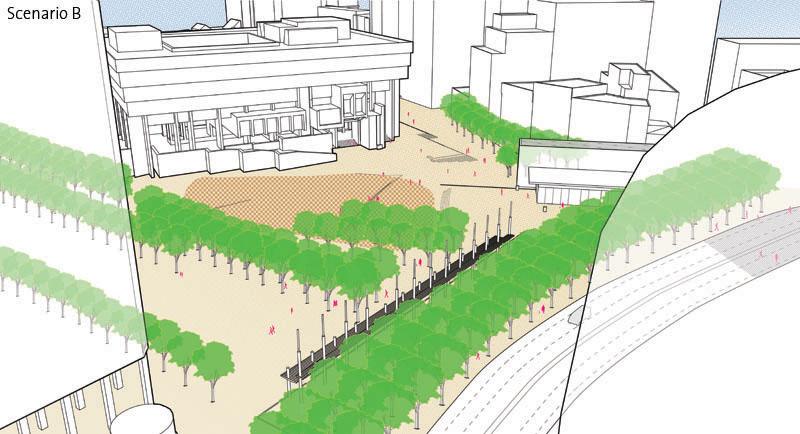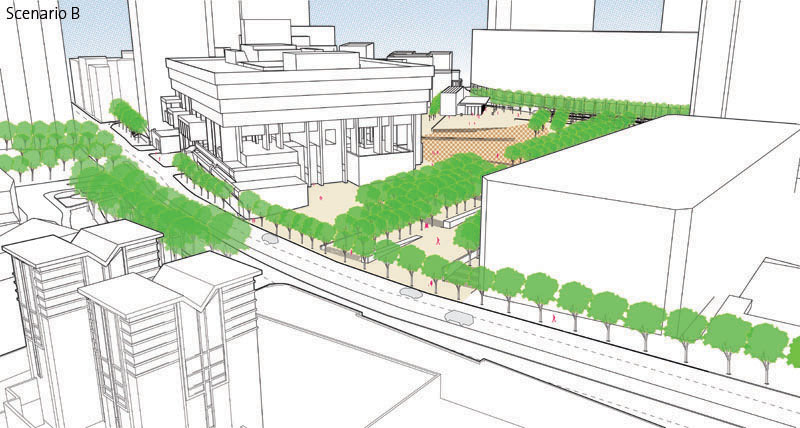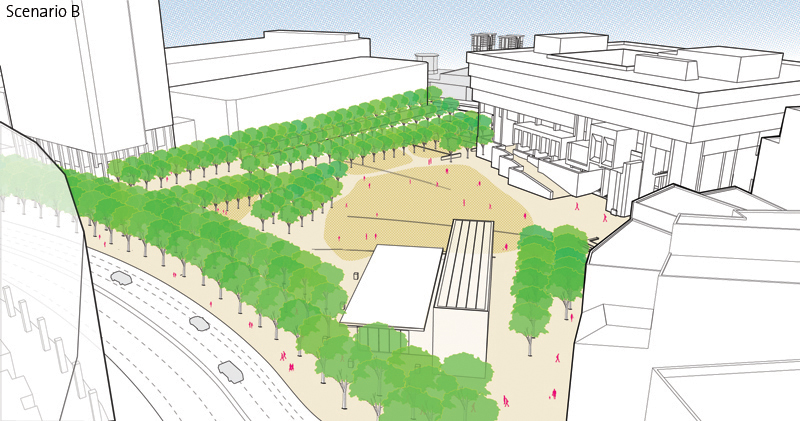 A final report provides greater detail about the existing condition, the historical and cultural context of the plaza, and the environmental benefits of the design scenarios.