Arches and the Zeitgeist
A team comprising Swiss architects Herzog & de Meuron and Australian firm Hassell has won the high-profile competition to redesign Melbourne's iconic railway station at Flinders Street.
Joel Lamere's fabrications, exhibited at the Makers in the Making Exhibition at NADAAA, are a contemporary take on the hypostyle arcade.
Just as we were beginning to doubt our cultural relevance as a result of our arch-centric solution to the Long Island Index innovative parking garage design challenge (see the more retrograde interpretation of the project below), we ran across two super-contemporary projects that make it clear that arches are back – and with a vengeance (Elizabeth found the recent H&dM project while doing some recent hunting/gathering). We worked closely with Joel Lamere (project above) on the geometry and modeling of the Boston Harbor Island Pavilion. This accidental convergence means that we need to get Joel involved with the LIRR garage project, if it moves to the next stages. BTW – we have already been working closely with Buro Happold in New York on the structural concept.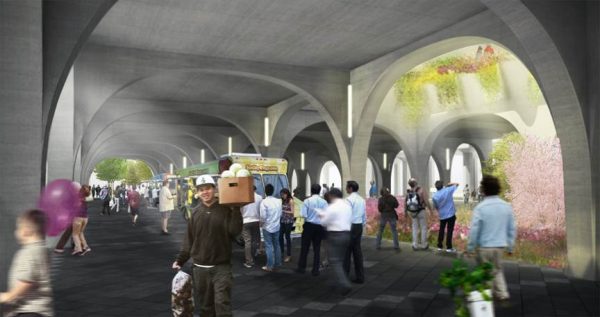 The first floor structure of our proposed parking garage prototype for the Long Island Railroad
-Tim