Justice, Equity, Diversity, and Inclusion (J.E.D.I.)
At Utile, we are committed to designing and creating more just, equitable, and sustainable environments—both within our practice and in the spaces we bring to life—by amplifying a diversity of voices, cultivating inclusion among our colleagues and partners, and seeking out the perspectives of those in the communities we serve.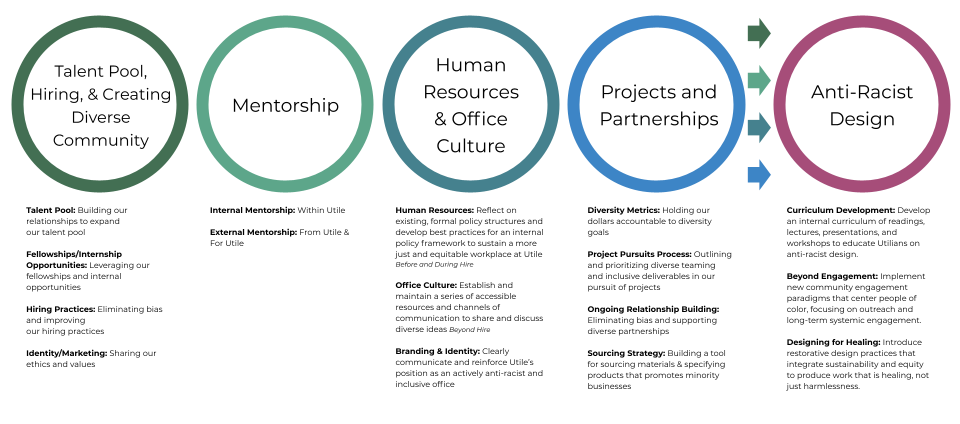 To address the systemic injustices that exist within these very communities, injustices that disproportionately harm communities of color, we continue to build an internal culture that is predicated on translating these core values into actions. To achieve this, we have launched a wholesale review of our policies, office culture, and approach to projects. We continue to partner with mission-driven non-profit organizations centered on improving the lives of children and historically underserved communities, while providing the framework for our staff to work with local schools and universities to inspire and educate the next generation of designers and planners.
We have created a series of working groups aimed at rethinking our hiring and partnership practices, while expanding our comprehensive mentorship and volunteer programs to engage well beyond our existing network. Our dedication to environmental sustainability continues to impact our design thinking across all of our work, particularly among our affordable housing and community planning projects. Though these are just a few of our ongoing initiatives, they are the first of many steps in combating injustice. We will continue to listen, learn, and take actions to deconstruct systemic racism in the world around us and we look forward to continuing the conversation as an office and with our clients and collaborators.