The New Wood Architecture
I had the pleasure of hearing the newly-crowned Pritzker Prize winner Shigeru Ban speak at MIT last month.  For anyone who missed it, the full lecture, the 8th Goldstein Lecture in Architecture, Engineering and Science, can be viewed here: http://architecture.mit.edu/lecture/works-and-humanitarian-activities

Aside from his wit and obvious humility, I was most awed by Ban's innovations in timber architecture.  Expressed as a sculptured ceiling in his Haesley Nine Bridges Golf Club House, seen below, the timber forms simple arches that are weaved together to create three-story canopied columns.  The undulating structure reminds me a bit of the curved steel forms of our Harbor Islands Pavilion.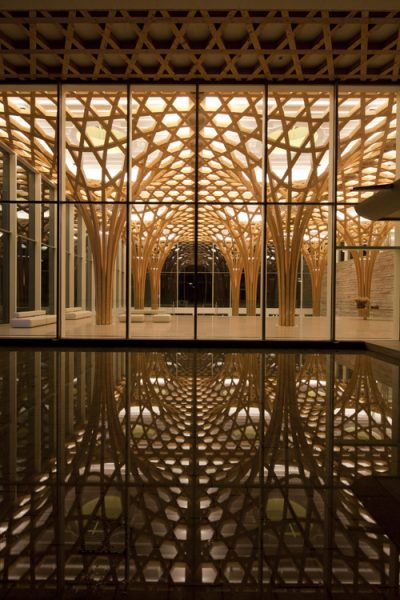 Haesley Nine Bridges Golf Club House – Korea, 2010. Photo: Shigeru Ban Architects
And in his Tamedia Office Building in Zurich, Ban uses mega-sized ovoid mortise and tenon joints to create a structural moment frame built entirely out of wood.  A sight to see indeed.  As we continue to push the limits of wood construction, is this the new wood architecture?
Tamedia New Office Building – Zurich, Switzerland, 2013. Photo: Shigeru Ban Architects
– Maressa