Zig-zag Stair Pattern
One of the concepts we are testing for a proposed new garage opposite the planned second front entrance of the Boston Convention & Exhibition Center (BCEC) is a façade comprised entirely of interlocking stairs. The project that initially spurred the idea is the unbuilt component of the Fascist Party Headquarters in Milan by Piero Portaluppi, shown below in a model from 1939-40. The system of stairs responds to the configuration of the auditorium within the building volume.
The project was the centerpiece of a superb lecture delivered by architectural historian Lucy Maulsby, my colleague at Northeastern University. The Portaluppi project is one of several fascinating fascist party buildings in Milan – both the central headquarters and neighborhood branches – that Maulsby discusses in her new book Fascism, Architecture, and the Claiming of Modern Milan, 1922-1943, published by the University of Toronto Press. While the politics and functions are different (to say the least), the spate of new branch libraries in Boston and the City's almost-complete new municipal office building in Dudley Square use architecture to push official civic life to the outlying neighborhoods in a very similar way.
Maulsby suspects that Portaluppi got the idea from Figini and Pollini (their project is depicted in the Olivetti advertisement below). They had been Portaluppi's students at the Polytechnic.
And I couldn't help but notice that the stair of the Figini and Pollini project resembles the exo-stairs of Renzo Piano's relatively recently completed Isabella Stewart Gardner Museum in Boston.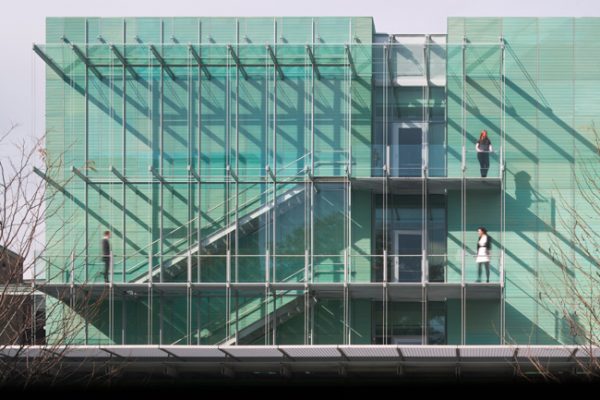 Which all means that as we work through this idea, the inspiration will be coming from many directions, but mostly from Italy.
Update: See additional precedent for a zig-zag stair pattern in a more recent post above.
-Tim