November is Native American Heritage Month and we're grateful to have had the opportunity to work with artist and educator Sebastian Ebarb to help us recognize it and the important issues in the lives of Indigenous people that it centers. This month, we're reinvigorating our efforts through education and action to go "Beyond the Land Acknowledgement" and expand the ways in which our work is more inclusive and reflective of Indigenous peoples.  We're thankful to Sebastian for being part of this effort!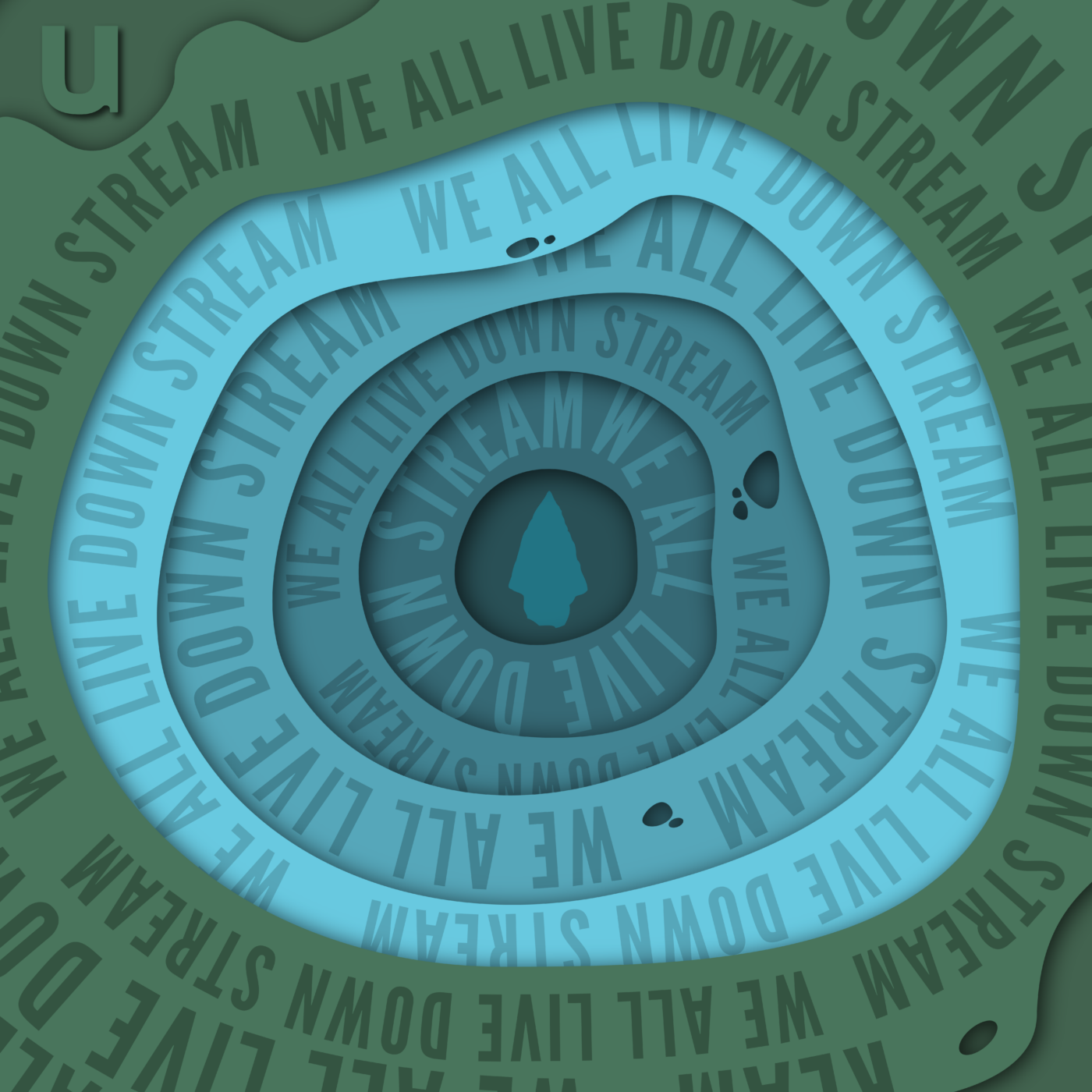 Statement from the Artist:
A series of rounded cut-outs in shades of blue and green, like peering into the depths of water. This work is a reflection of the Native American lands that were taken away and submerged. It speaks to the lands of my tribe. In the 1960s, our tribal members were forced to leave their Ancestral home and move to nearby areas. Our lands were intentionally flooded to form the Toledo Bend Reservoir, resulting in the loss of large portions of our heritage. The symbol of the arrowhead sits at the bottom of the water disconnected not to be used again. We are not the only tribe whose land has been flooded and lost. Many natives have stories of how policies have changed their own lands and waters.
The phrase "we all live downstream" by Robin Wall Kimmerer, from the book Braiding Sweetgrass continues the understanding of the work. It signifies the way we must care for the land, and how policies shape our natural world. In the statement, it also acknowledges that my tribe now finds itself downstream from the lands we once called home. Lands that were unjustly taken and inundated. This artwork is an expression of our history, loss, and the ongoing need to protect and respect the environment. We are all connected in ways some can't fathom.
Sebastian Ellington Flying Eagle Ebarb is a designer based in Boston. As a member of the Choctaw-Apache Tribe of Ebarb. He is a professor of Design at Northeastern University and co-owner of the design studio Nahi (meaning "we" in Apache).
Sebastian's work is centered on empowering and lifting up those around him. Sebastian works with clientele no matter their budget. He truly believes that everyone who wants design in their life should have it.