Infrastructure as Architecture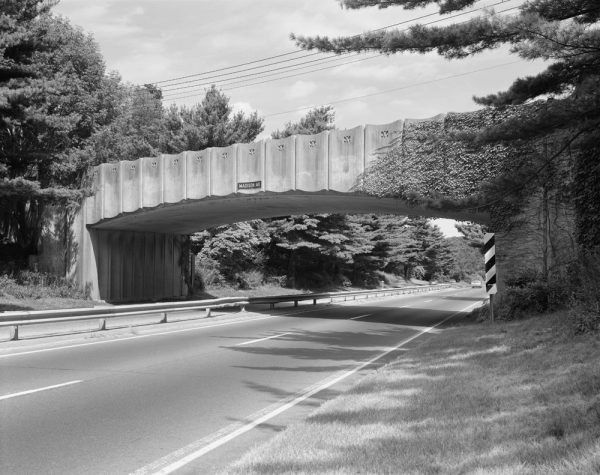 The Madison Avenue bridge in Trumbull, CT has always been my favorite bridge over the Merritt Parkway. It was one of the inspirations for the planters/guardrails that line each floor of our proposed parking structures, developed as a prototype for village centers near Long Island Railroad stations.
It has been fashionable lately to use the term "infrastructure" when discussing not only larger systems of architecture and the landscape in the urban environment but also individual buildings – almost as if the word "architecture" was suspect. But can we reverse the equation and imagine that more architectural thinking might infiltrate the world of engineers and transportation planners? That was precisely our goal when deciding how to frame our approach to the ParkingPLUS Design Challenge we were offered by the Long Island Index. While maybe colored by the sentimentality that comes with nostalgia, I have always admired public works projects of the WPA-era and earlier. My childhood in Fairfield County, for example, was devoid of any architectural inspiration except for the bridges over the Merritt Parkway and the corporate headquarters buildings of Roche Dinkeloo (also a big influence!). Later, as a student at the Harvard GSD, I took an excellent seminar course entitled "Visions of New York in the Twentieth Century," taught by Rico Cedro, where I was first made aware of the legacy of Robert Moses, not only as a politician and planner, but also as a client for works of engineering that included architectonic issues as part of the civic agenda. It's with this background that we conceived "Civic Arches" – a proposal, to some, that might hark back too directly to the sources of our inspiration. But what's wrong with arches? They are a highly pragmatic way to pierce a solid wall.
-Tim