Paragon Park Memories
We are beginning a master plan for Nantasket Beach in Hull, Mass., a waterfront town on the South Shore of Massachusetts. Today Nantasket Beach is blanketed by surface parking lots and a knot of intertwining roads. I recently came to learn that those surface lots were once home to one of the biggest destinations on the South Shore, Paragon Park, a beach front amusement park in the tradition of Coney Island or Hampton Beach.
Looking at old photos and listening to stories from our client, Paragon Park was an amusement paradise of roller coasters, carousels, a ferris wheel, penny arcades, bumper cars, skee-ball, etc. There was the "Kooky Kastle", The Giant Coaster, Auto-Scooters, the"Turnpike Ride", the Trabant, the Tilt-A-Whirl, Galaxy Coaster, the Skydiver, Paratrooper,  Matterhorn, Himalaya, Round Up, Scrambler, Crazy Tea Cups, Twister Kiddie Coaster, Caterpillar, the Whip, Batman-slide, Super-slide, Salt and Pepper Shakers, Swing ride, Rotor, Bermuda Triangle, Congo Cruise, Jungle Ride, the list goes on!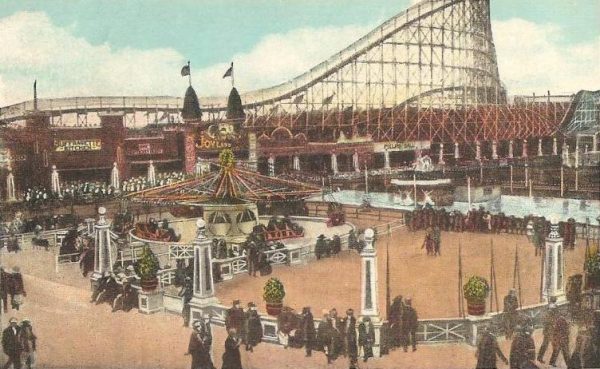 You could grab fried clams, take a stroll on the boardwalk, watch the parade of hot rods, lay on the beach, and slyly check out those gams. Today the only remnant of it is the original carousel. The Giant Coaster was removed in 1985.
Here is a website that chronicles some Paragon Park Memories
Also, here is LENGTHY retrospective of it.
SO, what do you think? Take away the insurance liabilities and seasonal nature of an amusement park, would it be a good idea to resurrect Paragon Park?! Is there a place for more amusement parks at summer spots?
-Drew