Utility of Play
Creative people are curious, flexible, persistent, and independent with a tremendous spirit of adventure and a love of play.

Henri Matisse, French painter, 1869–1954
Two weeks ago, Bostonians swarmed the Lawn on D Street (an ongoing Utile planning project, in partnership with Sasaki and the HR&A). What has attracted this crowd? The opening of Swing Time, an installation of twenty LED-illuminated hanging swings designed by Howeler + Yoon. The swings, described as an "interactive playscape," glowed a soft white as the mix of yuppies, neighbors, and families channeled their inner child, eagerly waiting for their turn to reclaim a piece of their youth. When at last the swinging began, the white glow turned a bright purple, a transformation that recalled a more sci-fi vibe than traditional playground scene.
Both within the community and among designers, the project has been considered a smashing success. The phenomenon is attributed, not to traditional design criteria, but to a conception driven by innovative programming and social interaction (not to mention, social media). The wide appeal and enthusiastic approval leave us wondering how we might promote more play within the public domain. How might our communities change if playful programming were more prioritized in urban design?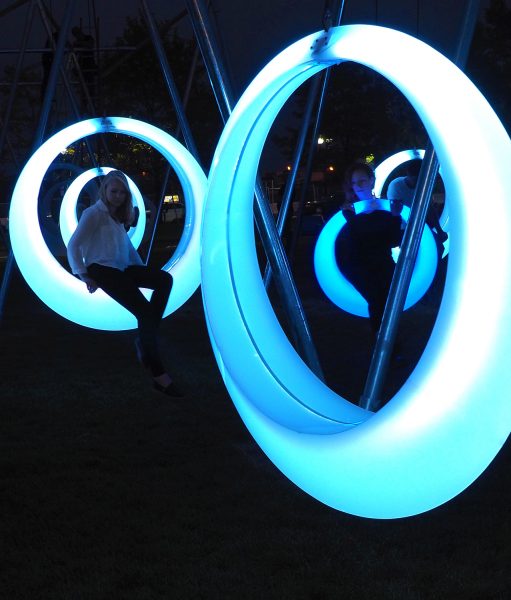 Terminology of Play
There is no shortage of terminology used to describe program-centric and playful urban spaces. "Urban play", "interactive playscape", "urban playground", and "community laboratory" are just a sample of the trendy word mash-ups tossed around. While these definitions have distinctions, their meanings find overlap. Urban play typologies can be loosely grouped into three programmatic categories.
 recreate + exercise     |     create + express     |     observe + lounge
This framework includes programs ranging from public fountains to free speech walls to ergonomic furniture.
Another distinction worth classification is between dynamic and static design. Dynamic designs have the physical capacity to move/change/respond to an interaction and may utilize mechanisms and/or technology. Static designs, though not mechanized in any way, encourage and set up an environment for people to engage or interact with the design or each other.
History of Play
While this approach seems to be a relatively recent phenomenon in US cities, it has evolved naturally out of not-so-spontaneous cultural shifts and political movements (find out more here). Early stages of this eventual design genre are more entwined with political activism than architectural experimentation. Though there are many histories leading up to our current moment, let a take a closer look at our first category, recreate/exercise, via the playground.
 Play around the World
Playful urban attitudes are found all over the world. These range from playgrounds made of yarn in Japan to interactive public art in Amsterdam to exercise-inspired urban furniture in Rome.
Boston Plays
In the past ten years, Boston has embraced a variety of permanent and temporary interactive urban design projects.
Play Appeal
Apart from political and design agendas, what is the present appeal to playful urban design? Is it just for the kids, or is there something about these places that draws diverse audiences?
Consider this: as design focus shifts from a singular, optimized, and permanent design culmination, to design with a plethora of possibilities for permutation, of either the physical space or of the person(s) within the space, the results are much less predictable. Rather than design that responds to a synchronic slice in time [certain audience, cultural moment, and design aesthetic], urban play spaces have, built into their conception, an intentional adaptability. These spaces do not deny change, but instead have productively exploited the inevitability of change. Furthermore, increasing interest within design circles to explore scripting and parametric software points to design that dynamically responds to and/or optimizes a result within set "parameters." Combining the power of technology with building and construction innovation opens up opportunities to utilize mechanisms that respond to user-interaction or external phenomena.
[Play]ce-Making
We like this idea of options. With options we gain the power to effect change, no matter how small or insignificant, in our community. This goes back to the idea that designers refer to as place-making. We want to make place, identify with, belong to, and have meaning within our community. This empowerment has proven to have positive relationship to a community's health. There is a correlation between an individual's perception of having influence and the vibrancy of the community. When citizens are given a way to engage their environment, through artistic expression, political change, or other means, the community is healthier and happier.
Play Palette
Of course, even adaptive spaces incorporate constraint. The designer, to a degree, has power to direct and bias certain interactions through careful curation of the palette of alteration. These biases, though, are design, and are also likely born out of shared cultural values and expectations. Public spaces can be a mirror, or thermometer, of a cultural climate, with potential both positive, to foster a healthy community, and negative, to politically oppress. In the US today, where a premium is placed on individual autonomy and freedom, urban play spaces reflect this value. The Swing Time project exemplifies a cultural primacy on the individual through the freedom to choose his/her swing, and offered the specificity of three custom sizes. In this way, even adaptable spaces might have an element of cultural life-span.
Play of the Future
"Humanity has advanced, when it has advanced, not because it has been sober, responsible, and cautious, but because it has been playful, rebellious, and immature."
 –Tom Robbins
From the highly technical responsive mechanisms to carefully curated static spaces, innovation and proliferation of urban play typology suggests that designers are only limited by their imaginative capacities.
As with every design movement, though, there are a whole host of new (and old) critiques. Among these are concerns of waste, safety, and maintenance. Maintenance discussions are nothing novel, but some of these interactive spaces are targeted to a greater degree. Fog machines and moveable parts are not always cost-effective or maintenance-friendly. Furthermore, it is easy to imagine the safety concerns people might have with water, electricity, and boulders designed for jumping. These concerns, though valid and to be thoughtfully engaged, are simply an addendum to the already long list of "constraints." As adults, we still have fun playing, but we also know that no design in the real world comes without its challenges. That's the catch-22 of design: there is no fun without a challenge. Here at Utile, we'll take the challenge to make our work = play.
-Emily