Coffee Carts and Vacant Storefronts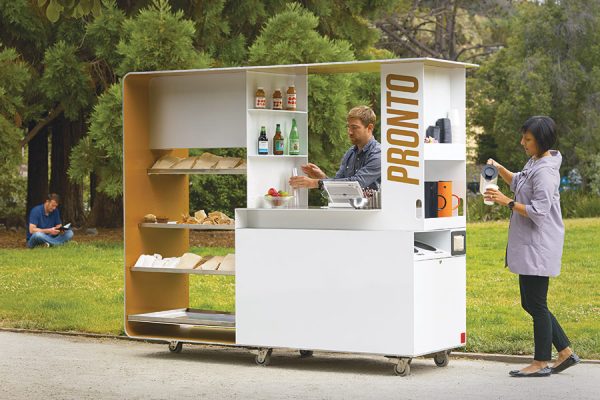 Pronto Kiosk by Aidlin Darling Design, San Francisco
Don't get me wrong, this coffee cart is cute and the perfect embodiment of the intersection of DIY Urbanism and Live!Work!Play! development strategies that are popular in high value cities. But how do we reconcile solutions like this with the issues facing cities like Springfield and Lawrence, Massachusetts, where vacant Downtown retail space is a significant economic development and urban design challenge?
Vacant building action plan, City of Lawrence, Utile
One answer might be to borrow the entrepreneurial and life-style focused ethos of the coffee cart to attack the vacant storefronts directly. The key is to persuade often-absentee landlords to provide their ground-level space to business start-ups gratis or at very low cost. But it's the convincing that will be difficult, since the cost basis of these buildings is low and the relative costs and risks of tenants is relatively high in terms of insurance, security, and increased scrutiny by City code officials.
One solution might be a public policy that helps to pay for the minimum costs of getting potential coffee cart vendors into the buildings for test runs of six months or one year. These costs might include minimal electrical upgrades, new locks on doors, and an insurance policy that indemnifies building owners as much as possible. In addition, this policy would need to clarify that the "leases" are for temporary occupation to avoid the need for costly code upgrades that would paralyze the program. Partnerships with local community colleges and branches of state universities would be key. Start-up ventures could be a central focus of business programs, thus incentivizing storefront experiments on an on-going basis.
If even ten percent of these ventures stick, it will make an enormous difference on the Main Streets where we are doing a lot of our planning.
-Tim