Utile City vs. Turner City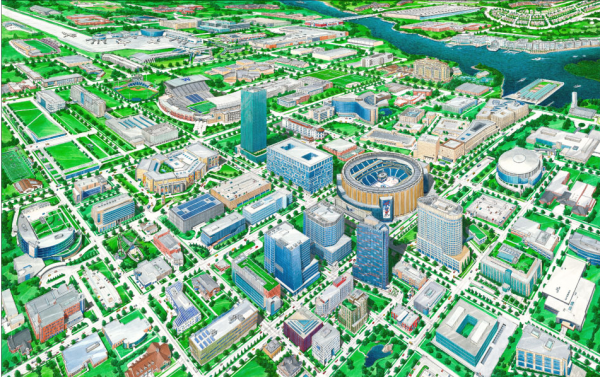 Thanks to a tip from Howard Davis and additional sleuthing by Alex Davis (no relation), I was directed to Turner's fantastical mash up of their notable projects from across the country. Despite the family resemblance, there are significant differences between Utile City* and Turner City, in addition to the difference in net worth and international reach between the two organizations. The first is that Utile has chosen an axonometric line drawing over Turner's full color aerial perspective view. In addition, Turner's version includes ample grassy green spaces and a density that suggests an "Edge City" (like Irvine, CA or Tyson's Corner, VA) or one of the booming life science campuses that have sprung up near universities and medical centers. Utile City, on the other hand, is a reasonable facsimile of a handful of dense walkable cities, including Boston, Toronto, Philadelphia, Baltimore, and Chicago.
Most of the buildings in Turner City seem to be of the same early-21st Century vintage. Interestingly, all surface parking lots have been eliminated; as a result, we are led to assume that parking is located below the buildings in the scene. Utile City, in contrast, has the earmarks of a city with a messy and unresolved historical past. An elevated highway still makes its way through the urban fabric, parking structures dot the downtown, and early-20th Century residential buildings are cheek-to-jowl with the tough-to-humanize building types that dominated late-20th Century real estate development.
Neither city is perfect, or even a model for an urban future, but they do serve as apt symbols of the preoccupations and priorities of their respective organizations.
* Please note that at least one Turner project – the Boston Harbor Island Pavilion – is depicted in Utile City.
-Tim