The Library of the Future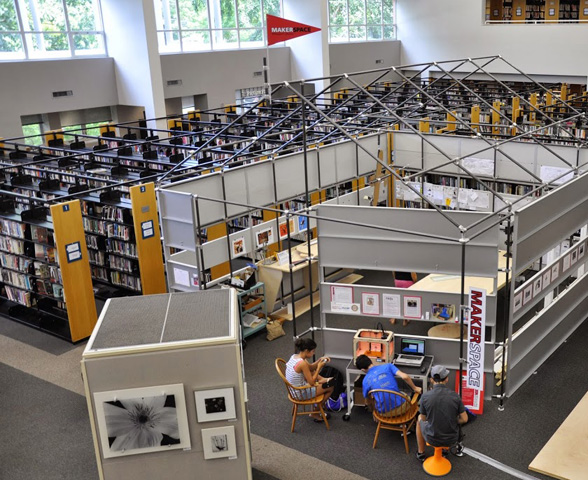 The Makerspace inserted into the middle of the Westport (CT) Public Library.
We were recently asked to speculate on the future of the public library. A rather open-ended question but fortunately we have been engaged in a fascinating discussion with Belmont Day School as we develop a vision plan for their campus. Academic libraries are grappling with the same issues that face public libraries: rapidly changing technology, decentralized information access using web search and emerging ideas of civic space in a world of social media. Pair these high-level issues with the more concrete problems of limited budgets, aging facilities and a boom in usage and it would seem libraries are ripe for the kind of disruptive change the new economy thrives on.
It turns out, the mission of the library is the same as it has been for centuries: to connect people with information to produce knowledge. The 21st century library is carrying out this mission in exciting ways: "maker" spaces with publishing software, video editing stations and 3D printers; digital commons where patrons – dare we say "customers" – and librarians interact informally and collaboratively; and instructional spaces to hone new skills or discover new languages.
It's an exciting time to be thinking about libraries but all this talk of change can be tempered with the comfort that the mission remains the same.
– Brett